Shoulder Pads - The Thin and Thick of It - by Glenda
Shoulder pads come in many shape and colors. They can be covered or uncovered. You can buy them premade or make them yourself. Covered shoulder pads are most often used in unlined jackets or shirts. Plain shoulder pads are mostly used in lined coats and jackets.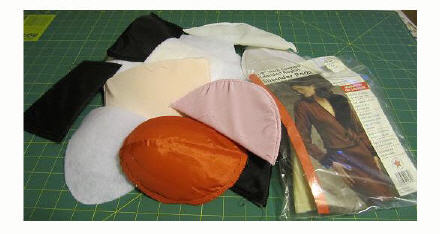 So why use shoulder pads? Many reasons: To remove wrinkles from your garment, balance shoulder height, to smooth out boney shoulders, or to give your jacket or blouse a professional or expensive look.
The type of shoulder pads used would depend on the type of sleeve that the garment has. The most common types of shoulder pads are dolman, raglan, and set in sleeves. They come in they come in thickness of 1/4 inch (.3 cm) to 1 inch (2.5 cm) on the average.
Doing a tailored jacket with shoulder pads is made easy with PMB. Have you ever bought a commercial pattern and the instructions say that you need 1/2 inch shoulder pads only to find out while constructing your garment that you really need 1 inch shoulder pads? That is because your shoulder slope is different from the standard use by the commercial pattern.
PMB gives you control of this situation and it is very simple to do. If you go to Settings in PatternMaster while planning your garment, you can choose what size shoulder pads you would like to use and the program will draft the patterns accordingly.
My favorite size shoulder pad size is 5/8 inches. I have sloping shoulders and I like my jackets to look more like I have squarer shoulders. People who have less slope would want to use a thinner shoulder pad.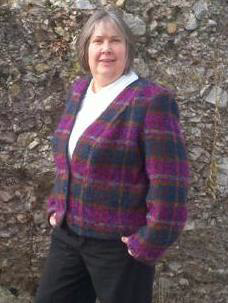 Sometimes one shoulder might be slightly lower than the other shoulder which is my situation. One solution for this is to use two different size shoulder pads. In the jacket on the right I used a 5/8 inch shoulder pad a 1/4 inch shoulder pad that I whip stitched together before attaching. The style was for a set in sleeve.
For a blouse I would choose a 1/4 inch shoulder pad, depending on the weight of the fabric I would consider a thin set in shoulder pad or a molded shoulder pad. Again, the choice is a combination of personal preference, your shoulder slope, the type of garment you are making, and the drape of the fabric.
To see Glenda's Chanel inspired jacket go to... Chanel Inspired Jacket
---