Shoulder Bag by Marjorie Baker
This lined rectangular purse is a modification of the shoulder bag in Wild Things. Purse has one pocket on the outside, a zippered pocket on the inside, and a magnetic snap closure on the flap.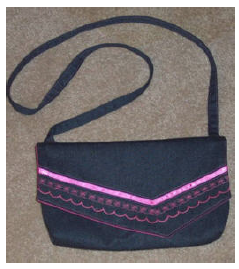 Draft and Print the Patterns
Launch Wild Things and go to Create Patterns.
Select the Shoulder Bag.
Set the height to 13 in (32.5 cm) and the width to 11 in (27.5 cm).
Select the Chevron pocket and set the height to 3 in (7.5 cm) and the width to 5 in (12.5 cm).

Press the Next button on the Create Patterns screen and then press the Print button on the Finish Patterns screen.
Arrange and print the patterns as shown below. The shaped shoulder strap is not necessary and does not need to be printed.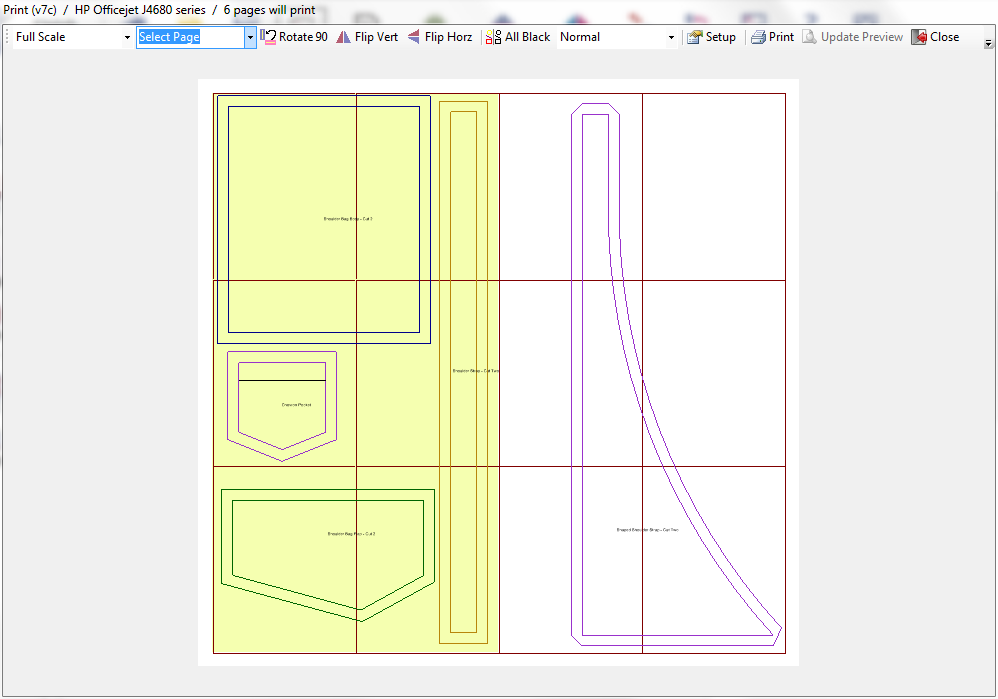 Cut Patterns
From fashion fabric: cut one flap, one bag body, one pocket, and two narrow shoulder straps. (You may want to shorten shoulder straps.)
From lining fabric: overlap bag body and flap matching seam lines and cut one. Eliminating the seam allowance reduces bulk.
Optional inside pocket lining: one piece 8.5 in x 11 in.
You will also need one 7 in zipper
Assemble the Purse
Apply fusible interfacing to wrong side of purse fabric and lining fabric where snap fastener and inside pocket will be applied. If fabric choice is light weight, the entire purse should to be interfaced.
Optional inside zippered pocket. Opening is approximately 7 inches down from the seam line at the point or about 12 inches up from the seam line of the straight edge of the lining. With right sides of pocket lining to the bag lining, stitch a rectangle 1/2 inch by 7 inches. Cut opening and turn to the inside of lining. Press and sew zipper inside opening. Sew pocket sides and top edges together.
Add decorative stitching or machine embroidery to outside flap.
Turn under edges of pocket, hem top edge. Sew pocket to outer purse about one inch down from top seam line and about 2 inches to the left of the side seam on the right hand side. Use your own judgment making sure that the pocket will be covered by the flap when purse is closed.
Join shoulder straps along short edge. With right side together fold lengthwise and sew 5/8 inch from folded edge, leaving both ends open. Trim seam allowance to 1/2 inch. Turn right side out and press. Topstitch close to each edge.
Position shoulder straps along top edge of outside flap piece approximately 1 inch in from each side.
With right sides together, sew flap to outer purse, leaving a 6-inch opening in the center. (This opening will be used to turn bag right side out.) You may want to stitch over straps a couple of times for reinforcement. Press seam toward flap.
With right sides together, sew straight end of lining to straight end of outer purse. Understitch this seam to prevent lining fabric from rolling to outside. Press seam flat so that lining is behind outer purse. (Tip: trim about 1/8-inch off of top of lining before sewing to outside bag. This will allow the bag lining to fit better in the end.)
Apply socket half of snap to lower point of pocket through both the pocket and the bag front.
Apply ball half to purse lining so that it will line up with socket half.

With right side of outer purse together, fold lining seam up to 1/2 inch from flap seam, pin in place.

Bring right side of lining up to meet right side of purse flap. Tuck shoulder strap inside. Sew raw edges together, leaving folded edges open. Trim corners.

Turn purse and lining right side out through opening in flap seam and press.
Top stitch close to folded flap seam all the way across and though both layers (lining and flap), continuing around outer edge of flap. (You may want to topstitch above snap fastener to prevent lining from rolling to the outside.)

To form square corner on bottom of purse, turn purse, lining side out. Flatten corner to form a triangle by matching bottom fold line to side seam. Sew through all thicknesses about .75 in from point. This will create a corner that is approximately 1.5 in wide. Repeat for second corner.
---