Pants or Skirt with Pocket Opening by Beverly
Paula wrote: How would you design pants with no zipper, but a button opening at the side front where a slash pocket would be?
Ruby wrote: In PMB I would select a front zipper opening, the leg style that you want and the slash pockets. I would use the "pocket" pieces for facings. The waisband then wraps around from the outside edge of one pocket all of the way around and then into the pocket (underneath the other edge). The other pocket edge would either be usable with buttons on the top edge to match, or just decoration.
Beverly wrote: The right sideseam of the garment is left open from the waistband to the hipline. The back part of the waistband is extended to the entire length of the under pocket. The buttonhole is put at the end of the front part of the waistband.
Added by Wild Ginger: for the pocket patterns use the inseam, trouser, scoop, or western pocket patterns for the front and back pocket bag.
In PatternMaster Style Editor:
draft the pants as desired
select waistband and no closure
select the desired pocket
save the patterns and open in Pattern Editor
In Pattern Editor:
NOTE: seam allowances have been removed and construction points turned off for clarity.
Move the pocket bag to the back pattern matching the patterns at the hip point
Extend the top and bottom of the pocket to the back pattern as shown
Measure the new top line of the pocket bag and extend the waistband that amount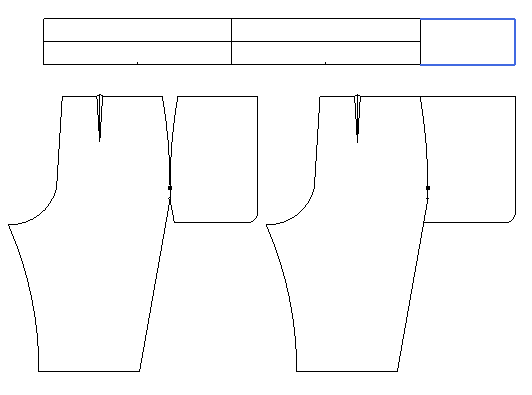 Sewing the Garment
Construct the garment as you would for inseam pockets
The right sideseam above the hipline is left open
Construct the left sideseam and pocket as you normally would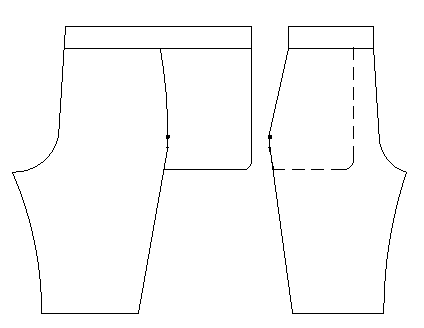 ---