Pant Designs
The article provides general definitions of common pants settings. As the designer, you may adjust as desired.
Pant Lengths
Floor length is typically 1/2 to 2 inches off the floor when wearing shoes. The hem circumference needs to be full enough to cover most of the shoe.
Ankle length is just below the ankle bone. The hem circumference is usually slightly larger than the ankle circumference. Be sure the hem circumference is large enough to go over the foot. The sideseam may have a slit or zipper if needed.
Capri (or crop) length varies from above the ankle to below the knee. Length and hem circumference is designer preference. The length needs to say "cropped" and not "high water". You do not want a cropped pant to look like a floor length pant that is too short.
Knee length is just to the bottom of the knee.
Shorts are any length above the knee. Length and hem circumference is designer preference.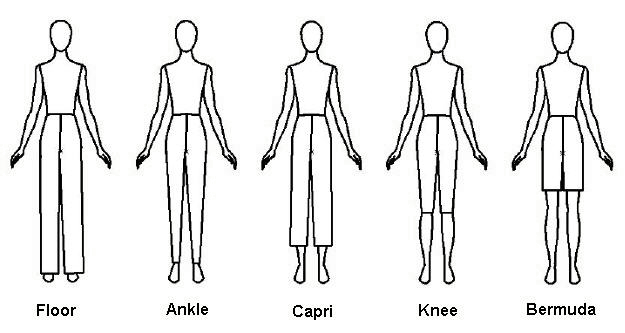 Hip Circumference vs Hem Circumference
Generally the larger the hip circumference the wider the hem circumference for the same look. There are no specific rules on how much you should increase the hem circumference with an increased hip circumference. Aim for what is most flattering for your figure.
In the diagrams, below 1 and 2 have the same hem circumference, but 2 is wider in the hip.
2 and 3 have the same hip circumference, but 3 has a wider hem.
You can see that 3 gives a slimmer more flattering line for the wider hip.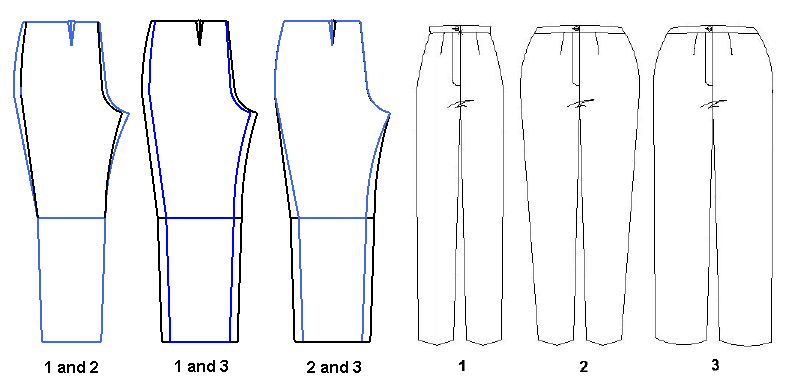 ---