Sewing a Face Shield
Our iCare v7 software for medical patterns includes a pattern for a personal face shield. The face shield has a detachable vinyl panel attached to a tie on cap with a bottom binding that ties around the back of the neck.
The face shield can be attached to most any hood or hat such as the iCare Shaped Hood with hook and loop tape. We recommend that you attach the LOOP side of the tape to the hat or hood. Use sticky hook and loop tape if you are unable to sew the tape to the hat or hood.
The face shield can be made with washable fabrics or disposable non-woven fabrics. Washable fabrics should be able to withstand very hot water. The face shield can be secured with elastic or with fabric ties as desired.
As the vinyl becomes creased, attach new hook tape to the top and bottom and reuse the binding with ties.
Sewing instructions for the face masks are included in the iCare program.
Download FREE iCare from this link - FREE iCare Medical Patterns
You can also download Sewing Face Masks by Phyllis Carlyle at this link - Sewing Face Masks
Guidelines
All reusable fabrics should be prewashed with fragrance-free detergent.
DO NOT use fabric softeners or bleach.
For resuable face masks, use natural fibers only (cotton, silk, linen, bamboo)--no blends.
For disposable face masks, use medium weight sew-in non-woven interfacing.
Do not use fabrics treated with flame retardant.
Seams should be finished in such a way that they do not rub or irritate (french seams--flat fell--etc). if serging or overcasting, put seams to outside and topstitch.
For the face shield, use clear vinyl. Attach the vinyl panel to the shield cap and bottom binding with hook and loop tape so that it can be replaced as needed and the shield can be laundered.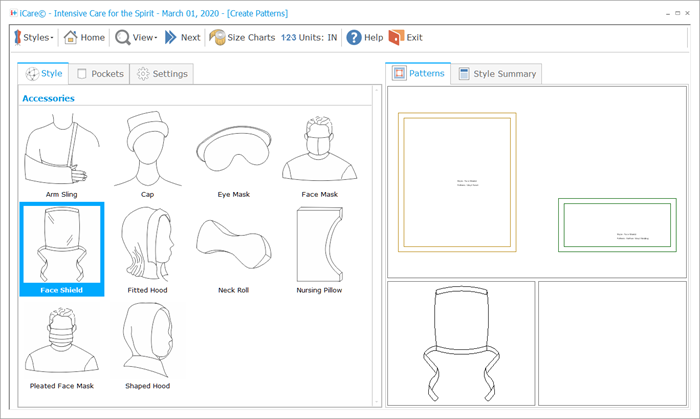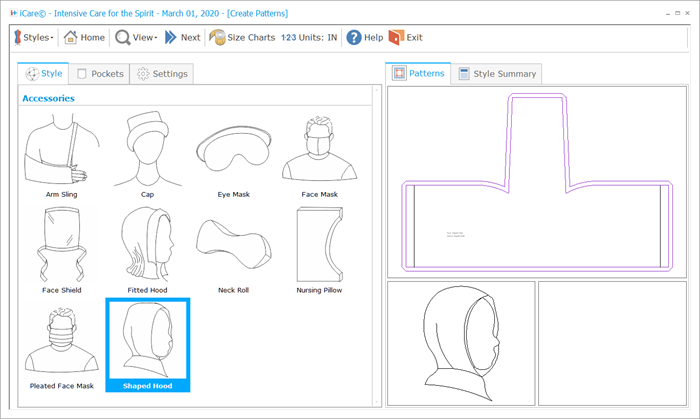 ---