Installing the Update
NOTE: These updates will only install into a computer with a legal version of the original software. We are not responsible for the malfunction of the software if you decide to install an update when you do not own a legal copy of the program.
NOTE: Click and Sew programs were created prior to the existance of Windows 7 and higher. They may not be compatible with later versions of Windows.
NOTE: The Product License Update installs a necessary file for product activation in Windows 7 and higher. Download this update ONLY if your program will not stay activated. After installation of this update, you will be required to activate your software again. You will need the License ID and Password or Product Key used to activate previous installations.
Follow the steps below to download and install the update. Click the Help button if you need assistance with your web browser.
---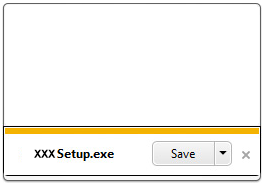 Step 1
Click the Download button above. Save the installation file to your computer following the instructions for your web browser.
Please NOTE: You may see a message indicating that this type of file could harm your computer. This is a generic message and does not indicate a problem with the download. Choose Save or OK to continue the download.